classes
Classes in Holistic Recreation for Everyone!
Crafting a Calmer Self offers unique classes for individuals of all ages and abilities. All that is required is an open mind. Try your hand at learning a new skills, such as knitting or crochet. Learn "slow art". Seek meditation to build a daily practice. Free classes and events are regularly offered.
Class Descriptions and Schedule
Spring, summer& fall classes meet in the outdoor "coop" studio, unless other location specified.
Private Meditation Coaching & Aromatherapy. Individualized sessions with personalized aromatherapy. Work 1:1 with meditation teacher & clinical aromatherapist. Appointments available. Fee: $10.
Family Meditation Parents & children are welcome for a special meditation class, craft and story. Fee: $5.
Meditation Intensive Class An intensive group class that focused on Transformation Meditation and breathing techniques.
Arts & Crafts for the Crystal Child & Indigo Child Arts & Crafts class, specialized instruction for children who are sensitive, perhaps quiet, insecure, misunderstood. Or perhaps have fiery spirits, intuitive. Our goal is to offer a creative art class that nurtures children who may have issues with self-confidence, self-expression, or anxiousness.
Art & Meditation for Adults Special class incorporating different methods of meditation and a featured art project. Dates & Time TBD
Knitting & Crochet Classes ~ Ongoing Private or group sessions for adults and children are always being scheduled. For more information, contact Debra at (201) 281-7145.
OTHER LOCATIONS ~ please email for details I am currently teaching on-going arts and crafts classes for adults with special needs and children with special needs at different locations. To see which class may be suitable for you or your child, kindly contact me at (201) 281-7145.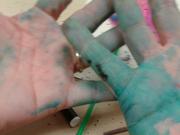 Meditation Groups and Art Class for All Ages & Abilities.
Quiet Mornings Meditation Group. Self-guided meditation group open to all who seek time for quiet contemplation. Dates and times for February and March to be listed soon. Free.
Magick Meditation NEW! A special "intention-focused" meditation group exploring topics of earth based spirituality. TBA. Free.
Meditation classes and groups led by a certified meditation teacher and clinical aromatherapist.
Other Class Descriptions.
Craft Happens! and Open Studio Sundays! For kids ages 5 to 14 to enjoy both open ended and structured multi-media exploration. There will be a range of media and projects to choose from and try.... Project are sensory based and we always try to do something different. Children of all abilities are welcome. To register or get more info, email debra@craftingacalmerself.com.
"Crafts & Respite". Now offering hourly respite care for children and adults with special needs or other challenges. These sessions include art, projects, activities, aromatherapy and/or relaxation techniques with an instructor while the parent is allowed to take some time to his/herself. Drop off or in home visit can be arranged. Fee: $10 per hourly (all fees can be adjusted depending on project, time and need). For more information, contact Debra at (201) 281-7145 or debra@craftingacalmerself.com.
Meditation and Art for Adults. This hour long workshop is incorporates different meditation styles, aromatherapy, and time for an art project to hand craft ~ all are used in combination to bring the participant to a place of relaxation, purpose, and action. This Fall the class will be offered at the Montvale Library. Email debra@craftingacalmerself.com