photos
Photo Gallery - Our New Studio!
Our studio and meditation lounge is a charming, renovated chicken coop. Enjoy the sounds of a nearby babbling brook and enjoy the scent of pine from the nearby woods. You may even be greeted by a friendly family of deer.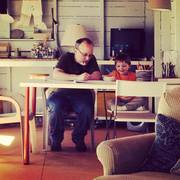 Our Meditation Lounge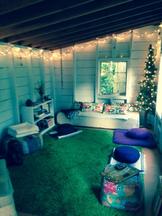 It was important to us to create a cozy and relaxed area to sit, be still and practice various meditation tools. We gave a lot of thought to color, texture and view in hopes of making all our friends feel at home. Natural lighting, soft sky hue on walls, natural elements, earth tones, cheerful color, soft cushions, and open windows with views of nearby woods.
A retreat for all ages . . .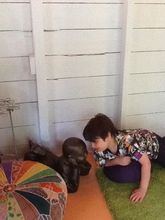 Love was our inspiration and we sought to fill the area with calming and inviting visuals for everyone to enjoy. We make special effort to welcome and encourage children with Autism and other special needs. We want them to explore and be comfortable.
A room with a view . . .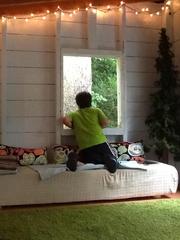 We sought to create an atmosphere that worked with nature rather than to overshadow it. All individuals can benefit from being present in the natural environment. Many of our crafts also encourage to explore natural elements.
A place to soothe the senses . . .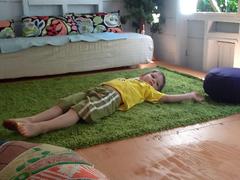 Crafting a Calmer Self, LLC offers instruction and services for people of all ages and abilities. Our studio aims to provide a low-key environment to allow visitors to relax, stretch out, sit, create, and be themselves. Various blankets, cushions and textiles are made available for meditation sessions. Various meditative and contemplative crafts, aids and approaches are used to inspire every seeker.
Sensory Garden
Outside our coop is a lovely sensory garden, complete with fragrant herbs, textured plants, blooming flowers, and chimes to delight one's ears when a soft breeze goes by. Bird feeders and bath make a happy retreat for feathered friends. Many of the garden structures are made from reclaimed items.
Refuge to all who enter our door . . .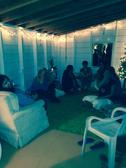 All are welcome. And the coop is available for private parties, bookings and classes. For hours and availability, please contact Debra at (201)281-7145. We offer instructional workshops and classes for adults and children in therapeutic crafts, knitting, crochet, felting, yarn dyeing, nature crafts, aromatic crafts, homesteading crafts, beading, and much more. We also lead meditation classes and workshops, guided meditations, mindful movements and aromatherapy.